Safe, compliant, portable and rapid mobile safe access platform to roof level.
The Easi-Dec branded mobile safe access work platform is the ideal access platform for work up to the roofline level, including fascia, soffit, and gutter work.
Designed with portability and ease of use in mind; the Easi-Dec mobile safe access work platform can be erected in under ten minutes, making it a fast, effective solution when scaffolding would be cost-prohibitive.
The standard 2m Easi-Dec mobile safe access work platform is built on the ground then raised to the required height via telescopic legs. The platform offers a safe, fully-compliant working platform which can span wall obstructions such as windows and porches safely.
Configurable
Need to expand your working area? Two or more Easi-Decs mobile safe access work platforms can be combined using our Catwalk to form a daisy chain of safe work access platforms, compliant with the edge protection requirements set out in EN13374. This Roofline system offers limitless modular possibilities allowing work across entire buildings, and is available with a range of accessories including rolling window bars, stand-off and corner kits, and end support frames.
Alternatively, the Easi-Dec mobile safe access work platform is also available for single workers as the 1.2m Mono-Dec. Ideal for painting, re-pointing brickwork, or gutter maintenance, the Mono-Dec single worker access platform features the same quick and easy no-tools assembly feature as the standard Easi-Dec.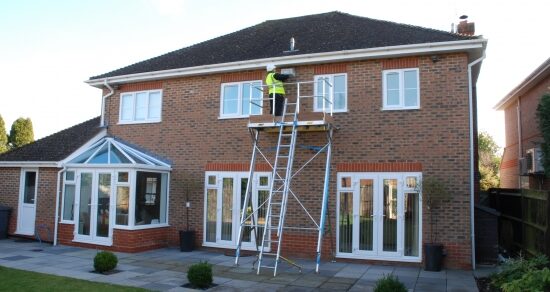 Easi-Dec Safe Access Mobile Work Platform key features
Certified to BSEN13374 Class C, EN12811
Height adjustable up to 6.8m with independently adjustable legs
No tools assembly makes work quick, easy, and safe
Light and compact, easily transported from site to site
The modular nature of the Easi-Dec work access platform means we offer a range of accessories which give you total control over your platform. Alongside the standard legs, which offer a safe platform to work from up to 5.5m, we also offer Super Legs (4.5m-6.8m) as well as Bungalow Legs (2.34m-2.9m), and multiple other types for all heights.
The Catwalk for the Roofline system comes with a standard length of 4.6m, however we also provide a 6.6m length to span greater widths. Both are supplied with an integral handrail system and toe boards. 
Where access is restricted, the standard 2m Dec can be used with a single leg support. This is ideal where boundaries or projecting structure restrict normal use.
The Rolling Window Bar provides a continuous platform support for load distribution, and the Stand-Off and Corner Kits allow for complete adaptability when encountering obstacles and corners.
Mobile Work Access Platforms