Joist Safety Matting
The Joist Safety Matting spreads weight across loft joists and makes loft and attic work safe.
Contact Us
The Joist Safety Matting system from Easi-Dec provides a safe, simple, and strong work platform for interior loft work. Ideal for a range of tasks, the system spreads the weight of the worker across the loft joists via strong metal slats to prevent falls through the roof.
The high-grade aluminium, anti-slip slat design makes the Joist Safety Matting perfect for multiple types of loft work including:
Electrical work

Plumbing

Satellite installation

Solar battery installation
The Joist Safety Matting also provides an ideal working solution for laying loft installation between joists, without having to put your weight on the roof itself. The system can span across a joist gap of up to 600mm making it suitable for use on most standard domestic loft joists.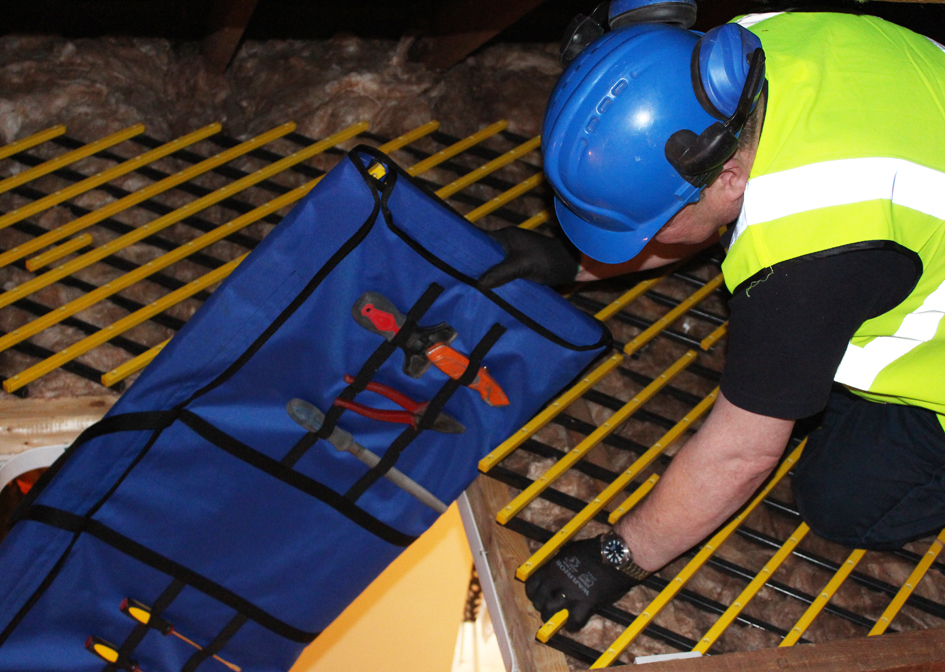 Portable
Weighing just 8kg the Joist Safety Mat is light and portable. The mat closes down to just 1150 x 480mm  and fits into a carry case, making it easy to be transported to site in a van or in the boot of most carts, taken though doorways, up stairways and through small attic hatches. When opened, the mat covers an area of up to 2m x 0.8m (1.6m²), spreading the weight of the operator over the joists. This gives safety for inspections; plumbing, TV aerial, solar inverter, electrical, and maintenance work in roof spaces.
Joist Matting Key Features
Safe alternative to loft boards
Super-lightweight and portable
Strong aluminium design for safe working platform
Avoid putting weight on potentially fragile loft roofs