Our Bespoke Access Platforms and Step-Overs Are an Ideal and Popular Solution for Allowing Safe Access Over Obstacles on Roofs
However, these innovative and durable systems can be just as useful at ground level.
Obstacles commonly found in industrial areas include:
- Plant and equipment, sometimes placed on the ground to avoid roof work
- Sudden changes in level, common in loading bays
- Cables, pipes and ducts
These obstacles can pose a trip or fall hazard, or simply make moving around your site in a straightforward way more difficult.
Standard or Bespoke?
Step-Overs and access platforms can be provided in standard designs, or created bespoke for your site.
This means that if you happen to have unique obstacles - such as plant and equipment or changes in level - we can supply a platform to suit.
On the ground, our platforms can also be used for safely accessing out of reach places.
This could include:
- Accessing the top of machinery
- Reaching racking or raised areas
- Or accessing the top of large vehicles such as coaches or HGVs
If your site has more than one difficult to reach area, and you are unable to utilise more than one platform, we can supply our access platforms with wheels, allowing them to be used in various areas and moved around easily.
This is ideal for vehicle access also, as the platform can be moved and adjusted to prevent dangerous gaps during access.
Kee Klamp® handrail also ensure users are fully enclosed and protected when using our platforms, minimising fall risks.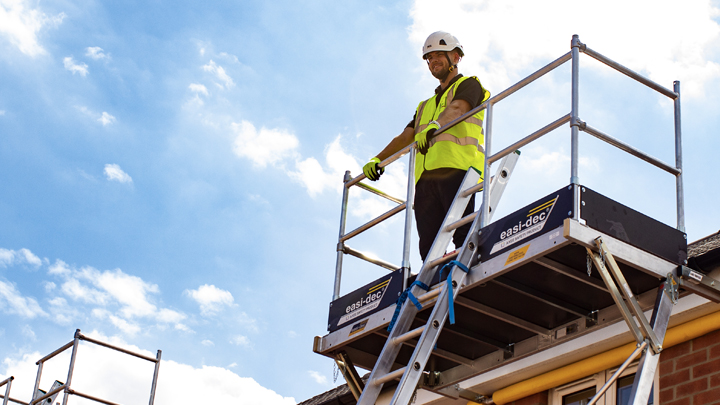 Modular Nature
The modular design of our platforms and Step-Overs means that not only is it possible to easily create a bespoke design for any scenario, but also that if damage occurs, the damaged section can be easily removed and replaced.
This removes the need for expensive and time-consuming welding.
Platforms can also be used to design a comprehensively protected area of safe access, by combining it with other modular systems in the Kee range such as Kee Klamp handrails.
Step-Overs and access platforms are a common sight on many roofs across the UK, but their benefits as a ground-based safe access solution are still overlooked.
To find out how an access platform or Step-Over on the ground could benefit your site or premises, call our product experts on 01767 691812, or use our online contact form.